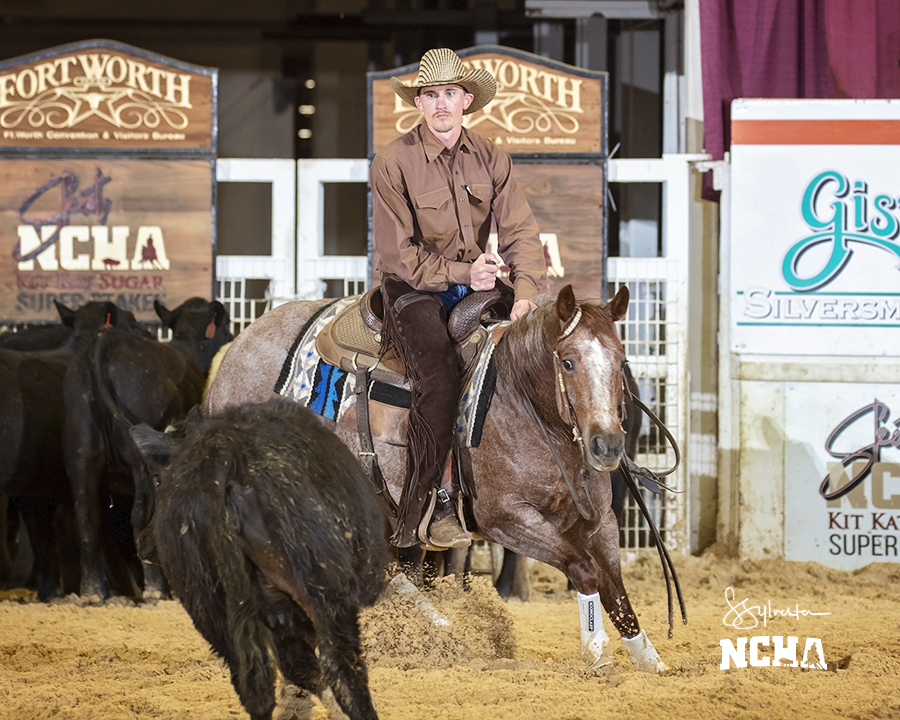 Blake Perry, Foster, Okla., rode Doralee as 4-Year-Old Intermediate Amateur co-champion of the McAlister Assets NCHA Super Stakes on Wednesday, April 14, and came back with the Once In A Blu Boon daughter on Thursday, to also claim the Amateur championship. The 218-point win was worth $16,192. Dennis Levering, Cottontown, Tenn., scored 217.5 on Athena Cat A Rey, by Cat A Rey, for the reserve championship and $13,105. Bridget Trenary, Nashville, Tenn., placed third with 216.5 points aboard Reyn Of Fire, by Metallic Cat, and earned $12,518.
Blake Perry, came to the 2021 Super Stakes with official NCHA earnings of $3,852 and will leave $26,884 richer from his earnings as Amateur and Intermediate Amateur champion, as well as money earned as a finalist in the Limited Amateur. Doralee also increased her earnings, from $2,620 to $29,504.
Bred by Terry Riddle, Doralee is the first money earner out of Dora Cat LTE $7,426, by Auspicious Cat. Riddle showed Dora Cat's dam, Dmac Easter Bunny LTE $52,966, who is out of Pretty Bo Bunny LTE $100,046. Stacie McDavid, winner of the 2021 NCHA Super Stakes 5-Year-Old Amateur championship on Thursday, had shown Pretty Bo Bunny as Non-Pro reserve champion of the 2002 NCHA Classic Challenge. Stacie and her husband David bred Dmac Easter Bunny, by Young Gun, and sold her to Terry Riddle as a yearling, for $10,000 in the 2004 NCHA Futurity Sale.
Dennis Levering, the NCHA earner of $235,713, also placed in the 2021 5-Year-Old Amateur Finals on Thursday, riding Athene The Light LTE $16,132, a half-sister, by Light N Lena, to 4-Year-Old Amateur reserve champion and Cat A Rey gelding Athena Cat A Rey. Both horses are out of the Athena Puddy Cat daughter Athena Nuff LTE $102,571, who was a 2009 NCHA Super Stakes Open finalist with Brad Mitchell.
Before Thursday, Levering's single richest limited event paycheck came when he placed ninth and earned $7,175 in the 2012 NCHA Amateur Futurity. As an NCHA Super Stakes contender, he was an Amateur Classic finalist in 2011 on Badger Star Lena LTE $37,203, by Reys Dual Badger, and in 2018 aboard Cat In The Marina LTE $36,837, by Athena Puddy Cat.
In addition to Athena Cat A Rey and Athene The Light, Levering also showed Metallic Alley, by Metallic Cat, on Thursday, as a finalist in the 6/7 Amateur Finals.
Bridget Trenary, the NCHA earner of $153,864, placed fourth riding Brenda Rreys LTE $46,993, by Dual Rey, in the 2019 NCHA Super Stakes Amateur Classic. She also placed as a 4-Year-Old Amateur finalist that year on J Low LTE $16,508, by Kit Dual, and made her first Super Stakes finals aboard Paddys Jazzy Lena LTE $19,649, by Paddys Irish Whiskey, with a ninth-place Amateur finalist in 2001.
In addition to Rey Of Fire in the 4-Year-Old Amateur, Trenary also showed Sugar Smak LTE $71,787, by Kit Kat Sugar, as a finalist on Thursday in the 5-Year-Old Amateur.
Reyn Of Fire, a Metallic Cat gelding bred by Jody Galyean, carried Trenary as a 2020 NCHA Futurity Limited Non-Pro finalist and as Unlimited Amateur semi-finalist.